Holly's Housing Market Report for Oct 2022
Let's review the stats that came out and compare the last 3 years of exceptional activity. COVID was certainly a challenging time for those buying or selling real estate. Both for buyers and sellers it made it difficult to adapt to the market. But we are are the flip side of the craziness for the most part. Notice I said for the most part? I'll circle around to that later.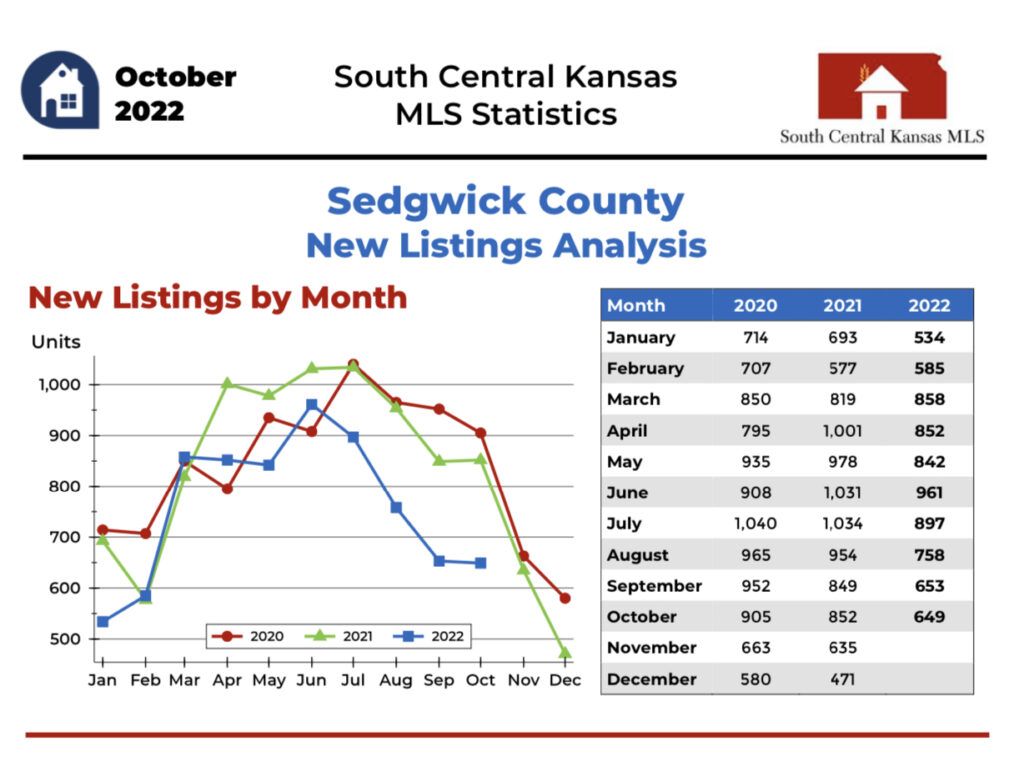 New Listings – What does this tell us?
Comparing the number of new listings tells us how comfortable sellers are with putting their homes on the market. Taking into account there are always a portion of the market that "Has to sell" their home for usually the same short list of reasons. They've taken a job in another State and are moving, the owner has pasted away and no family members acquire the home and unfortunately the situation where the home is just not affordable any more. Of course there are other reasons but Moving, Death and Money are the most common for "Having to sell" situations. By nature we tend to do things out of pain reasons more than out of pleasure reasons.
Due to that, the change in stats comes from situations of WANT! And various factors come into play here. But it typically boils down to 2 of the 3 factors we've talked about. Moving & Money! Moving to be closer to family, moving to have more space, moving to get in a better school district for their kids, moving to be closer to work or avoid traffic jam delays en route to work and moving to a more secure area. Money on the other hand is typically the biggest factor by far for listing a home on the market! It's no surprise to you most likely. And there are a million reasons why that I could list! That's for another discussion though.
Basically while buyer demand for homes has remained quite high over the last 3 years, sellers have gotten more reserved or less comfortable putting their property on the market. Three years ago there were 905 new listings put on the market. Two years ago it dropped more than 100 down to 852 and for October 2022 the number for new listings was 649. Showing a steady drop or confidence in the market. Sellers are analyzing the pro's and con's of selling as well as their ability to find something to purchase if that is part of their strategy. But I've seen quite a few sellers over the last couple of years that the monetary success of selling was so great that they because of the sparse market of finding a satisfactory home to purchase… lead them back to renting. At least until some time in the future to purchase.
So in summary, this stat tells us that the market of supply (Sellers) deciding to sell is less confident because the number has dropped over 100 every year of the last three.
---
Snapshot – Top 3 factors to watch
Months' Supply 1.2 – The number of homes available to buyers is up 50% from this time last year. This factor is better for buyers and I believe with continue to increase in small increments. For sellers this will build more confidence that they will be able to find a home to purchase if they are considering selling.
Median Sale Price $230,537 – This is stat is up 15.3% which is great for sellers.
Median Days on Market 6 – Up 20%! This stat is still very low and great for sellers if they price their home correctly. For buyers, it gives them a better chance of finding a better fit for them. They aren't as likely to just have to settle.